Why do we learn Religious Education?
At Ayrton we believe is successful primary theologist:
accepts, respects and values different religions and beliefs and that everyone should be treated with respect and tolerance
is introduced to a wide range of different cultures, beliefs, and religions
is aware that different people have different beliefs and traditions from their own heritage and cultures
understands that everybody does not think or act in the same ways when it comes to religion
can talk about their own experiences and make links to other religions and cultures
has a sense of their place in the world
experiences places of worship first hand to gather an in depth knowledge of the religion
Our approach
Implementation
Medium term plans are produced with the key knowledge and skills that children need to learn about the different religions in the world that they live in. Our religious education curriculum:
follows the Living Difference IV agreed syllabus for Hampshire
celebrates prominent special days in our wider community including Ede, Kurdish New Year and Easter
always begins by finding engaging and interesting ways to bring each concept alive through experiential moments that begin with real and concrete situations
uses the cycle of enquiry to explore each concept. We cover 'communicate', 'apply', 'inquire', 'contextualise' and 'evaluate'
encourages children to ask questions and think for themselves
Impact
In order to measure success we:
assess against the concepts that have been taught each term
use the responses that the children have to questioning, in order to assess their understanding and amend teaching where necessary
use circle times to assess children's understanding of each concept and to address any misconceptions.
Enrichment
In addition to the religious education curriculum, enrichment is offered through:
Visitors into the school to talk about their religions and what's special to them
Trips to places of worship
Workshops
Reception
Autumn 1
Autumn 2

Belonging

All About Me

Celebration

Christmas – Jesus' birth (and other celebrations from the children's experiences)
Spring 1
Spring 2

Belonging

Special People – Jesus and special people for children

Celebrating New Life
Summer 1
Summer 2

Special Place

The Gurdwara

Special

Special clothes (Hindu and others from childrens experiences)
Year 1
Autumn 1
Autumn 2

Thanking 

Harvest and further traditions

Belonging

Waiting
Spring 1
Spring 2

Change

People Jesus Met

Welcoming

Palm Sunday
Summer 1
Summer 2

Community

Community in Hindu and further traditions

Special 

Special books
Year 2
| Autumn 1 | Autumn 2 |
| --- | --- |
| Special People | Celebrating from around the world |
Spring 1
Spring 2

Special clothes

Sikhi Faith

Love as sad and happy

The Easter story
Summer 1
Summer 2

Story

Stories from the six major religions

God

Ideas about God
Year 3
Autumn 1
Autumn 2

Trees

Across Religions

Angels
Spring 1
Spring 2

Change and Transformation

Religious Leaders

Love 

Changing emotions

Easter
Summer 1
Summer 2

Sacred (Special)

Places of worship

Belonging as identity

Jewish traditions
Year 4
Autumn 1
Autumn 2

Community

Neighbour

Symbol

Hanukkah
Spring 1
Spring 2
Myth

Freedom

Passover
| Summer 1 | Summer 2 |
| --- | --- |
| Stones and Symbols Across Religions | Special as God Across Traditions |
Year 5
Autumn 1
Autumn 2
Belonging

Interpretation

Christmas - the two birth
Spring 1
Spring 2

Love

The golden rule

Salvation

The Christian story
Summer 1
Summer 2

Sacred Place (special)

Places of Worship

Umma (Community)

Hajj and Zakat
Year 6
Autumn 1
Autumn 2

Peace

Revelation of the Qur'an, sawm and Ramadan

Incarnation

An extraordinary baby
Spring 1
Spring 2

Ritual

Wudu and Eid al Fitr and Eid al Adha

Resurrection

The empty cross
Summer 1
Summer 2

Love

Sewa

River of Life

Humanism
RE News
Image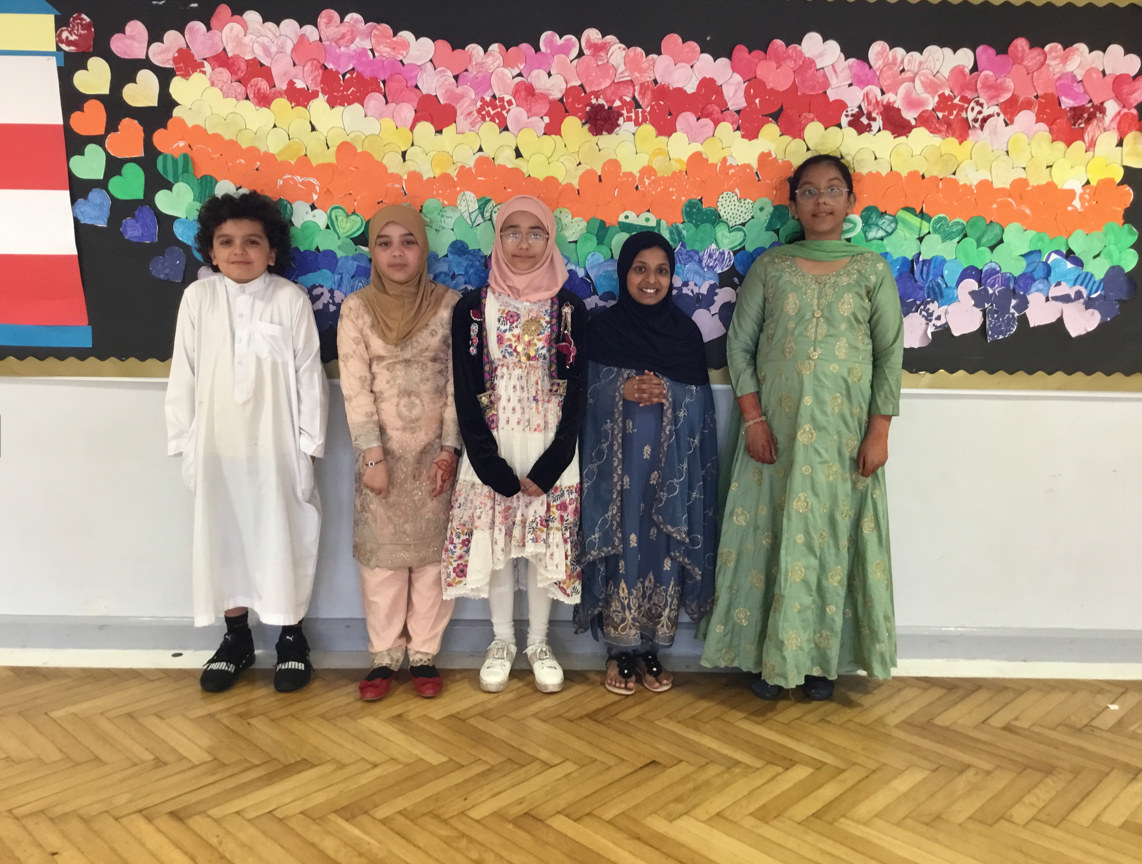 To commemorate the festival of Eid, the children were invited into school wearing their finest celebration clothing.