How Ark's governance works
Every school in the Ark network is the legal responsibility of the Ark Schools Board. This board focuses on statutory duties and delegates most day-to-day responsibilities to each school's individual Local Governing Body (LGB).
This means that our Academy's governors are able to concentrate on the things that really matter – educational strategy, school outcomes and aspiration. 
The Ark Schools Decision Making Framework outlines where responsibility and accountability sits for the key functional areas within Ark Schools between the 'tiers' of governance.
Our Local Governing Body
Our Local Governing Body (LGB) is made up of 6-10 members – usually people with a local connection or interest who are committed to supporting educational opportunity in the area. The board generally includes:
Academy Principal
Up to two Parent Governors
One Teaching Staff Governor
One Non-teaching Staff Governor
One Local Authority representative
We aim to create a balanced group that will have the right skills, connections and dynamic for the LGB to work well and support the school in achieving exceptional performance. Attributes we look for include:
Good insight into the specific challenges at the school and the general challenges of operating top-quality schools
Excellent community links
Specific skills as needed by/relevant to the school
A link to the senior executive team of Ark Schools
All appointments are made by the Director of Governance for Ark Schools. The term of a governor is three years, except for the Principal, who remains a governor for the duration of his or her time in post. Governors may be reappointed for further terms.
The LGB meets four times a year.
Becoming a governor
If you have an interest and commitment to improving education, and would like to make a difference within your community, please register your interest in becoming a governor by completing our online Governor Application Form. If you have any questions about a governor's role or responsibilities please contact us at governance.team@arkonline.org
A full programme of induction, training and support is provided. You can see more information, including role specifications here. 
Contacting the governors
The current Clerk to Governors is Valerie Oldland (Valerie.oldland@arkonline.org). Please contact them if you have any governance-related queries, or would like to contact one of the governors.
Our Governors
Chair, Safeguarding Link Governor
Katie Oliver
Katie Oliver was formerly Ark's Director of Operations and now heads up Ark Start, a pilot programme to broaden and extend work in early years education.
Finance Link Governor
Dinah McKenzie
Dinah has spent her working life first in the City, leaving HSBC Asset Management when her children were small, and then in the voluntary sector, working at New Philanthropy Capital, a consultancy and think tank, since its founding in 2001. With two children now finishing their education, Dinah has left their school's PTA, where she was a long-standing member, but wants to continue working with students and teachers to make a contribution to school life. Skills include research, analysis and consultancy - with 15 years' experience of consulting to charities at NPC - as well as financial analysis and audit. Dinah has been treasurer of a local charity for the past decade, and now would like to be able to contribute to an Ark School.
Parent Governor
Mohamed Hassan Sayed
Mohamed is the Director of Chemical and sustainable engineering programs at the University of Southampton, an experienced academic with a demonstrated history of working in higher education and industry for 20 years. Mohamed was motivated to join the governance body at Ark Portsmouth Primaries, to help enhance service to the community, engage in children safeguarding and mental and general wellbeing , bridge the gap between primary/secondary elements and tertiary education and to champion sustainability across both the schools at a strategic and an operational level.
Governor
Evanthia Soukara
Evanthia is a qualified early years teacher. She has a Master of Education and a Master of Business Administration. Evanthia has diverse working experience in childcare, education, social care and business settings both in Greece and U. K. Her passion and main interest is education and learning. Evanthia currently works with adults who have additional needs and lives in Portsmouth with her two children. She is honored to be a governor at Ark Primary Academies and is committed to actively support both the leading team with their strategic decisions and children with their learning.
Governor
Rob Wood
Rob Wood works in cloud computing, is an Honorary Alderman and former Lord Mayor of Portsmouth. He is Vice-Chair of Governors at Ark Charter.As a strong family-oriented person, Rob knows the importance of keeping our young people safe and wishes to ensure they have the best possible opportunity to develop to their full potential. A Portsmouth City Councillor from 2010 to 2022 and Liberal Democrat Spokesperson for Children and Education since 2011, Rob was previously the Cabinet Member for Children and Families between 2018 – 20, Children and Education between 2011-14 and Chair of Governance and Audit in 2010. Rob has a vested interest in improving education outcomes, as both grandchildren (and children) attended local authority schools. He has contributed to the LGiU paper on the "Middle-Tier" role in delivering Education and the local authority's role within this and has chaired and spoken at several national seminars on the subject of Education.
Image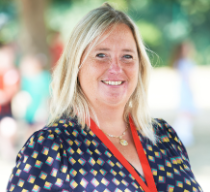 Executive Headteacher
Mrs A Hibberd-Chapman
Governor
Katy Micklewright
Katy has worked in secondary schools in Portsmouth since 2008.  She taught Science whilst working in schools and was also a Trust leader in Teaching and Learning.  Katy now works at the National Institute of Teaching, where she is Head of the Early Careers Faculty, that provides induction to Early Career Teachers across England. Katy is focused on improving teacher development so that children receive the best possible experience during their education.  Katy has lived in the Portsmouth area since 2008 and knows the community well, understanding some of the challenges faced by Portsmouth schools.  She is passionate about supporting Ark schools to ensure that their children get an amazing experience at school and therefore have better opportunities in life.
Governor
Sue Thomas
Sue has substantial experience in IT systems and Finance having worked as a senior software developer and previously as a financial accountant. She is a graduate of the University of Portsmouth (MSc), a qualified software engineer and a qualified accountant (retired) and has two grown up children who both went to schools in Portsmouth. With an enthusiastic and enquiring outlook on life, Sue is passionate about the positive value of education and the opportunities that it can bring and is keen to see that all children in Portsmouth receive excellent teaching and support.
Declaration of interests & LGB Attendance