Image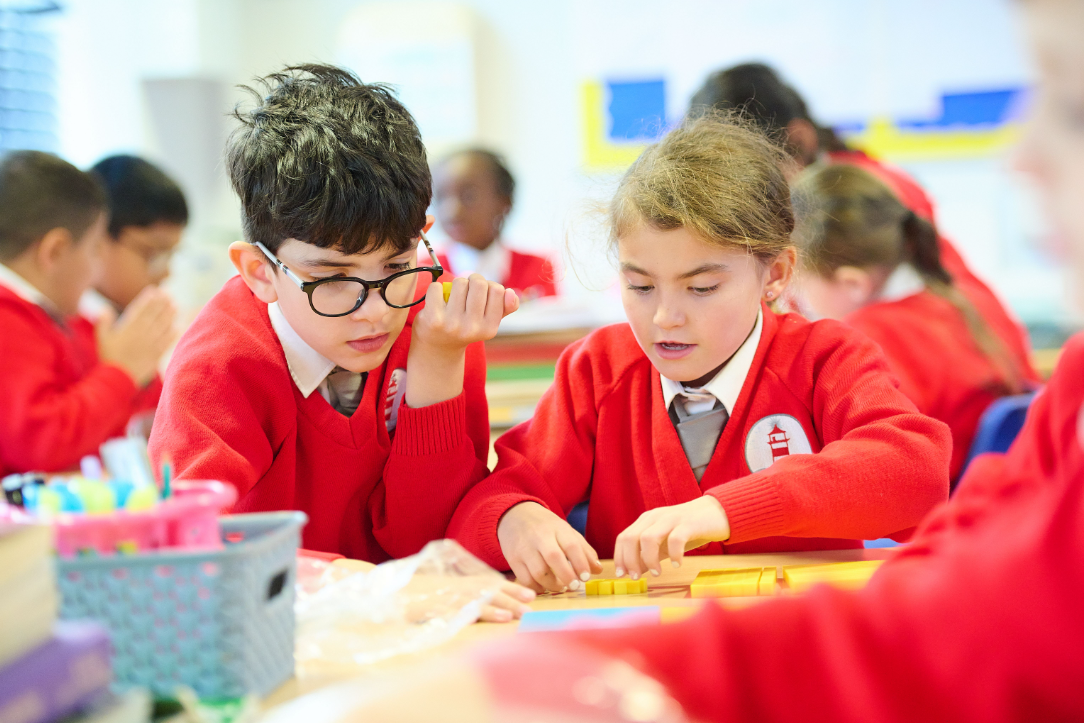 Why do we learn maths?
At the end of their primary school journey at Ayrton, we believe that a successful mathematician:
will be resilient and confident
will build on prior learning to develop fluency and mastery
will be problem solvers who can transfer those skills to solving problems in an array of contexts
can apply their skills to reason clearly about maths and in an array of different contexts
can work independently and collaboratively in order to share their skill sets with their peers and support each other to problem solve.
will enjoy maths and seek further study as they progress through secondary school and beyond, continuing to build on their prior knowledge and understanding.
have a strong and deep understanding of key mathematical concepts
Our approach
Implementation
At Ayrton, mathematics is sequenced and planned using Mathematics Mastery. Our maths curriculum:
builds upon learning and allows pupils to make deep connections across topics
encourages the use of multiple representations, including concrete and pictorial representations to strengthen conceptual understanding
focuses on children accessing and using accurate mathematical language to communicate and solve mathematical problems from EYFS through to Year 6
consists of teacher led and collaborative modelling of different concepts and strategies which then leads to independent learning for children.
enables children to build on prior learning ensuring opportunities for all to master maths, developing their fluency, problem solving and reasoning skills.
Impact
In order to measure success we:
carry out daily purposeful assessment for learning, which enables teachers to address any misconceptions immediately and extend learning through challenge.
ensure that children have a secure understanding of mathematical concepts before continuing to the next step and eventually reaching mastery.
assess for each area of maths using pre and post diagnostic assessments which then informs planning
carry out rigorous gaps analysis after summative assessments to plan next steps for all children
Enrichment
At Ayrton, mathematical learning is not just confined to maths lessons and opportunities for this can be found in science, computing and our Horizons topic work. Maths skills can also be applied to problem solving in real life contexts such as cooking and PE lessons and children are encouraged to take part in visits out of school to participate in workshops where able. Maths lessons are planned with real life contexts in mind so that children can apply their knowledge outside of school.
Reception
Autumn
Early mathematical Experiences
Pattern and early Number
Numbers within 6
Addition and subtraction within 6
Measures
Shape and sorting
Spring
Numbers within 10
Calendar and time
Subtraction within 10
Grouping and sharing
Number patterns within 15
Doubling and halving
Shape and pattern
Summer
Securing addition and subtraction facts
Number patterns within 20
Number patterns beyond 20
Money
Measures
Exploration of patterns within number
Year 1
Autumn
Numbers to 10
Addition and subtraction within 10
Shape and patterns
Numbers to 20
Addition and subtraction within 20
Spring
Time
Exploring calculation strategies within 20
Numbers to 50
Addition and subtraction within 20
Fractions
Measures: Length and mass
Summer
Numbers 50 to 100 and beyond
Addition and subtraction Money
Multiplication and division
Measures: Capacity and volume
Year 2
Autumn
Numbers within 100
Addition and subtraction of 2-digit numbers
Addition and subtraction word problems
Measures: Length
Graphs
Multiplication and division: 2, 5, and 10
Spring
Time Fractions
Addition and subtraction of 2-digit numbers
Money
Face, shapes and patterns; lines and turns
Summer
Numbers within 1000
Measures: Capacity and volume
Measures: Mass
Exploring calculation strategies
Multiplication and division: 3 and 4
Year 3
Autumn
Number sense and exploring calculation strategies
Place value
Graphs
Addition and subtraction
Length and perimeter
Spring
Multiplication and division
Deriving multiplication and division facts
Time Fractions
Summer
Angles and shape Measures
Securing multiplication and division
Exploring calculation strategies and place value
Year 4
Autumn
Reasoning with large numbers
Addition and subtraction
Multiplication and division
Discrete and continuous data
Spring
Securing multiplication facts
Fractions
Time
Decimals
Area and perimeter
Summer
Solving measures and money problems
Shape and symmetry
Position and direction
Reasoning with pattern and sequences 3-D shape
Year 5
Autumn
Reasoning with large whole integers
Integer addition and Subtraction
Line graphs and timetables
Multiplication and division
Perimeter and area
Spring
Fractions and decimals
Angles
Fractions and percentages
Transformations
Summer
Converting units of measure
Calculating with whole numbers and decimals
2-D and 3-D shape
Volume
Problem solving
Year 6
Autumn
Integers and decimals
Multiplication and division
Calculation problems
Fractions
Missing angles and length
Spring
Coordinates and shapes
Fractions
Decimals and measure
Percentage and statistics
Proportion problems